Business Browser
Canwest News Service
Published: Wednesday, March 05
KRAFT RAISES COFFEE PRICES
GREENSBORO, N.C. - Kraft Foods Inc., the world's second-largest food company, raised Maxwell House and Yuban coffee prices by about seven per cent, the second increase in three weeks after bean costs climbed.
As of Tuesday, Kraft was charging 20 cents US more for 11-ounce to 13-ounce containers of Maxwell House and Yuban coffee, said Bridget MacConnell, a Kraft spokeswoman in Tarrytown, N.Y.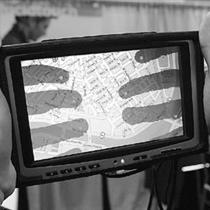 View Larger Image
SEE-THROUGH SCREEN: Computer scientist Patrick Baudisch demonstrates LucidTouch, a touch screen for mobile devices, on display at TechFest 2008, Microsoft's annual innovation event, in Redmond, Wash. This emerging technology allows people to touch devices from the back, creating the illusion of the device itself being semitransparent.
Agence France-Presse; Getty Images

Email to a friend

Printer friendly
Font:

Instant coffee prices will rise three to four cents an ounce, she added.
The move follows a similar price increase Monday by Procter & Gamble Co., which makes Folgers, the top-selling U.S. coffee brand.
Both companies raised prices twice since February as costs for arabica and robusta beans have soared in recent weeks.
MAGNA LANDS ASTON MARTIN JOB
TORONTO - Canada's Magna International Inc., the only auto-parts company to assemble cars, will build Aston Martin's Rapide luxury sport sedan in Austria as the British automaker's U.K. production facilities near capacity.
Work will begin "immediately" to create a dedicated production line at Magna's plant in Graz, Austria, Aston Martin said Tuesday.
Magna will start making the car by late 2009 and have an annual output of least 2,000 vehicles, Aston Martin said.
The order is a boost for Aurora, Ont.,-based Magna after a production slowdown for Bayerische Motoren Werke (BMW) AG's X3 sport utility vehicle in Graz. BMW said in May it would build the SUV in the U.S. to offset the rising value of the euro.
COLABOR BUYS ONTARIO FIRM
MONTREAL - Boucherville, Que.-based. food-service firm Colabor Income Fund said Tuesday it has bought Bruce Edmeades, a leading food-products distributor in Cambridge, Ont., for $10 million in cash.
It will join Colabor's Summit Division. The deal is part of Colabor's strategy to take a presence in key Canadian markets, said CEO Gilles Lachance,
It will lift Colabor's gross revenue to more than $1 billion in fiscal 2009. Colabor distributes 35,000 products to 25,000 restaurants in Quebec, Ontario and the Atlantic provinces.
SIGMA BUYS PLASTICS PLANT
MONTREAL - Sigma Industries Inc., a Quebec City-based composite and metal products manufacturer, said Tuesday it made its first acquisition in the U.S. market.
Sigma's U.S. subsidiary acquired Pickens Plastics, an Ohio manufacturing plant with 60 employees and $7.5 million in annual sales. Financial details of the transaction were not disclosed.
Traded on the TSX Venture Exchange, Sigma employs 550 workers. It targets several markets including, transit, machinery and agriculture.
A WARNING FROM BERNANKE
ORLANDO, Fla. - U.S. Federal Reserve chairman Ben Bernanke warned Tuesday that mortgage delinquencies and foreclosures are likely to rise, with more declines in house prices, and called for active measures to stabilize housing markets.
"This situation calls for a vigorous response," Bernanke said in a speech to the Independent Community Bankers of America, referring to government and private-sector initiatives to slow the rate of home-loan failures.
Banks may have to swallow reductions in the principal of some troubled home loans to ward off greater losses that could result from outright default, the Fed chairman said.
"Measures to reduce preventable foreclosures could help not only stressed borrowers but also their communities and, indeed, the broader economy," he said.
U.S. RETAIL SALES SLOW IN FEBRUARY
NEW YORK - Sales at U.S. retailers may have grown as little as 0.5 per cent in February as consumers faced with higher prices and the worst housing slump in 25 years trimmed spending, a trade group said.
The preliminary sales estimate by the International Council of Shopping Centers and UBS Securities LLC follows the worst January for retail sales since 1970 and the slowest holiday shopping season since 2002. Sales at stores open at least 12 months increased 2.1 per cent in the final week of February compared with a year earlier, the council and UBS said Tuesday in a statement.
GM OFFERS BUYOUTS IN OHIO
SOUTHFIELD, Mich. - General Motors Corp. is offering buyouts to 2,346 employees in Moraine, Ohio, under a plan patterned after one proposed last month to 74,000 members of the United Auto Workers.
Members of the International Union of Electronic Workers-Communication Workers of America can opt for early-retirement incentives of as much as $62,400 US or buyouts of as much as $140,000 for agreeing to forgo future benefits, GM spokesman Dan Flores said Tuesday.
The Ohio plant produces the Chevy TrailBlazer and other sport utility vehicles. GM, the world's largest automaker, is using buyouts to help cut North American manufacturing costs.
FACEBOOK HIRES GOOGLE EXEC
SAN FRANCISCO - Facebook Inc., the second most-popular social-networking website, named Google Inc.'s Sheryl Sandberg as its next chief operating officer.
The hiring of Sandberg, Google's vice-president for global online sales, was confirmed by Facebook spokeswoman Brandee Barker.
KERVIEL SEEKS RELEASE FROM JAIL
PARIS - Jerome Kerviel, the trader blamed by Societe Generale SA for its record 4.9-billion-euro ($7.4-billion Cdn) trading loss, filed a request to be released from jail, said Christophe Reille, a spokesman for Kerviel's lawyers.
Kerviel, 31, has been in custody for the last month during an investigation into the trades at the French bank.
The request will be heard by a Paris appeals court on March 14, Reille said.
On Feb. 8, a court ordered that Kerviel be held in custody while magistrates investigate charges of breach of trust, falsifying documents and hacking into the bank's computers.
He has admitted to exceeding his trading limits and falsifying documents, saying the bank was aware of his actions.
EMERGING-MARKET BOND SALES FALL
NEW YORK - Emerging-market bond sales are down 65 per cent so far this year as mounting subprime mortgage losses dried up demand for higher-yielding debt.
Developing-nation debt issuance totalled $15.5 billion US in the first two months of this year, David Spegel, head of emerging-markets strategy at ING Bank NV, said in a report Tuesday.
This year, countries borrowed $9.37 billion, while companies issued $6.14 billion of securities, a decline of 81 per cent from a year ago, according to the report.
"Since the onset of the credit crunch in late July last year, emerging-market debt capital markets have been operating at depressed levels," Spegel said in the report.
"Funding problems in international-debt markets have been particularly notable for corporates."
CNP INCOME FALLS 24%
PARIS - CNP Assurances SA, France's largest life insurer, posted a 24-per-cent drop in second-half profit on lower premium income after it didn't repeat one-time tax gains from a year earlier.
Net income fell to 654 million euros ($992 million Cdn) from 865 million euros a year earlier. Full-year profit rose seven per cent to 1.22 billion euros, the Paris-based insurer said Tuesday.
The bank reiterated it has no direct risks related to the U.S. subprime-mortgage market and that it forecasts profit before one-time items to rise more than 10 per cent in 2008.