Soap mouse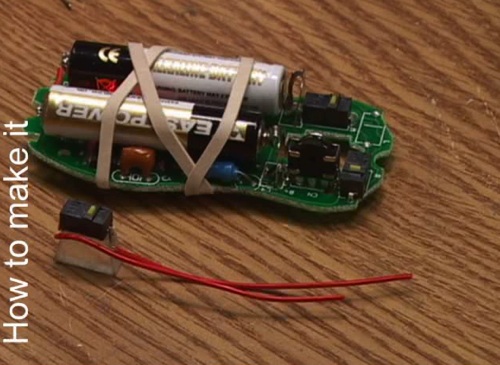 Ned writes - "A novel idea for making a standard optical mouse operate in mid-air. Make sure you check out the video for a demonstration and instructions for making your own." - Link.
Posted by Phillip Torrone | Jul 31, 2006 08:36 AM
Computers, DIY Projects, Electronics | Permalink | Comments (2) | TrackBack
Recent Entries
Comments
Newest comments listed first | Post Comment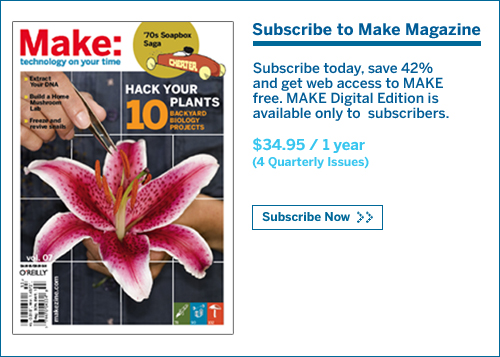 Trackback
TrackBack URL for this entry: http://makezine.com/mt/trackback/5121
<! -- end id="commlist" -->
Bloggers
Welcome to the Make Blog. You'll find all the most up to date happenings in the Maker and Crafts world here.

Phillip Torrone
Senior editor




MAKEbot
Add to Buddy list!


Natalie Zee
Crafts Maker




Bre Pettis
Media Maker



Current Podcast

HOW TO - Freeze a snail and bring it back to life Life and death at low temperatures, in MAKE 07 (Backyard Biology) we show how to freeze and revive a garden snail - here's the PDF preview to check out & to get MAKE videos and PDFs delivered automatically with... More...
Recent Posts from the Craft: Blog
Categories
Archives
Recent Posts
MAKERSs

Add MAKE
RSS/XML/Feed

Get MAKE via
IM - MAKEbot

MAKE
Forums

MAKE Forums -
RSS

MAKE @
Instructables

Add Instructables
RSS

Get MAKE @
iTunes

Add MAKE Podcast
RSS

Add MAKE -
RSS 2.0

Add MAKE -
RSS 1.0

Add MAKE -
Atom

MAKE
Flickr pool

Add MAKE Flickr pool
RSS

Add Flickr comments
RSS

Add Comments (print)
RSS

Bookmarks -
del.icio.us

Add del.icio.us
RSS

Get MAKE @
ODEO

MAKE @
GEO URL

Visit MAKE in
Second Life

MAKE @
Mobile Wink

Add MAKE to
Bloglines

Add MAKE to
Google

Add MAKE to
MyAOL

Add MAKE to
MyYahoo

Add MAKE to
Newsgator

Add MAKE to
Feedlounge

Add MAKE to
Pluck

Add MAKE to
Newsburst

Add MAKE to
Rojo

Add MAKE to
Kinja

Add MAKE to
Technorati

MAKE
favorites

Add MAKE
favorites RSS
MAKE via email
RSSfwd

MAKE via email
RMail

MAKE -
Technorati

MAKE Technorati
RSS

MAKE on
Digg

Add MAKE on Digg
RSS

MAKE in
Google news

MAKE Google news
RSS

MAKE press -
del.icio.us

MAKE press -
RSS

Get it all, MAKE -
OPML
---