ABC News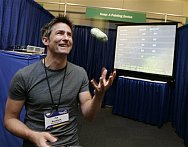 Pat Baudisch, a reseacher with Microsoft Research, tosses "Soap" a prototype hand-held computer pointing device that doesn't require a flat surface, in the air Tuesday, July 18, 2006 during a demonstration of possible future Microsoft Corp. products in Redmond, Wash. Microsoft is scheduled to report earnings on Thursday. Microsoft Corp. is expected to report fourth-quarter earnings after markets close. (AP Photo/Ted S. Warren)
By ALLISON LINN AP Business Writer
SEATTLE Jul 21, 2006 (AP)— Microsoft Corp. pleased investors Thursday by topping income estimates for its fiscal fourth quarter, despite a steep income drop, and announced plans to buy back at least $20 billion worth of shares.
For the three months ended June 30, the software maker earned $2.83 billion, or 28 cents per share. That was a 24 percent drop from earnings of $3.7 billion, or 34 cents per share in the same period last year.
Revenue for the quarter was $11.8 billion, a 16 percent increase over $10.16 billion in the same period a year earlier.
The results and repurchase plan sent Microsoft shares up 5.5 percent or $1.26, to $24.11 in after-hours trading. Microsoft shares had fallen 55 cents or 2.4 percent to close at $22.85 Thursday on the Nasdaq Stock Market ahead of the income report.
The quarterly results included one-time legal charges of 3 cents per share. In the year-earlier period, Microsoft had legal expenses of 5 cents per share plus tax benefits of 9 cents per share.
Without the charge, Redmond-based Microsoft would have earned 31 cents per share in the most recent quarter.
Analysts polled by Thomson Financial were expecting earnings of 30 cents per share on revenue of $11.63 billion.
Those expectations were reduced after Microsoft said in April that it expected earnings for the fiscal fourth quarter and 2007 fiscal year to be lower than many had previously expected. The company blamed the change on a decision to significantly boost research and development spending in areas where it is not dominant.
Microsoft also said Thursday that it plans to repurchase as much as $20 billion worth of shares by Aug. 17 in a tender offer.
Under its plan, the company said it will take offers to buy shares within the range of $22.50 and $24.75, in a tactic similar to a reverse auction. Based on the offers it receives, the company will come up with a strike price that allows it to buy $20 billion worth of the shares.
Microsoft won't buy shares below the price a shareholder offered to sell them for, and in some cases could pay more than the price a shareholder offers.